For some, it exposes the Russians to the truth of Vladimir Putin's war, while for others it traps the Geneva Conventions by paralyzing prisoners of war online.
Volodymyr Zolkin, 40, a pre-war amateur video blogger, has become a hit on YouTube in Ukraine and elsewhere for his more than 50 interviews with captured soldiers and pilots, which he says are an attempt to reduce censorship. to inform Russian families. the fate of relatives.
"You [only] "We have to believe the facts," Zolkin told the Guardian in a Skype interview from an unknown location. "Russia does not give or show anything. We immediately created an honest YouTube channel. We show everything here – photos, videos, all the data. We show real people calling their parents. You do not need to trust anyone, believe the facts ".
There is no doubt about the scope of the videos. The most popular have been viewed more than a million times and the average is 400,000-500,000 views.
An hour-long conversation with a Russian pilot, Major Alexander Krasnoartsev, who took part in the civilian bombing of the besieged city of Chernihiv, even received English subtitles.
Lawyers have suggested, however, that the creation and disclosure of such recordings is likely to violate the Third Geneva Convention, which is designed to protect detainees from humiliation and risks to their safety.
"These people are crying and thanking us for what we are doing," Zolkin said in response. "Sometimes I am asked if we are violating the Geneva Conventions. He says – you can not make fun of the prisoners. "Please tell me where the Geneva Convention says you can not do a humanitarian and peacekeeping mission."
It all started, he said, with the frustration of the lack of information reaching people in the Russian Federation. With the help of a friend, Victor Andrusiv, an adviser to the Interior Minister, he began calling relatives and friends of Russian soldiers who had asked for information through a Telegram channel of the Ukrainian government set up to tell them about the fate of their loved one. .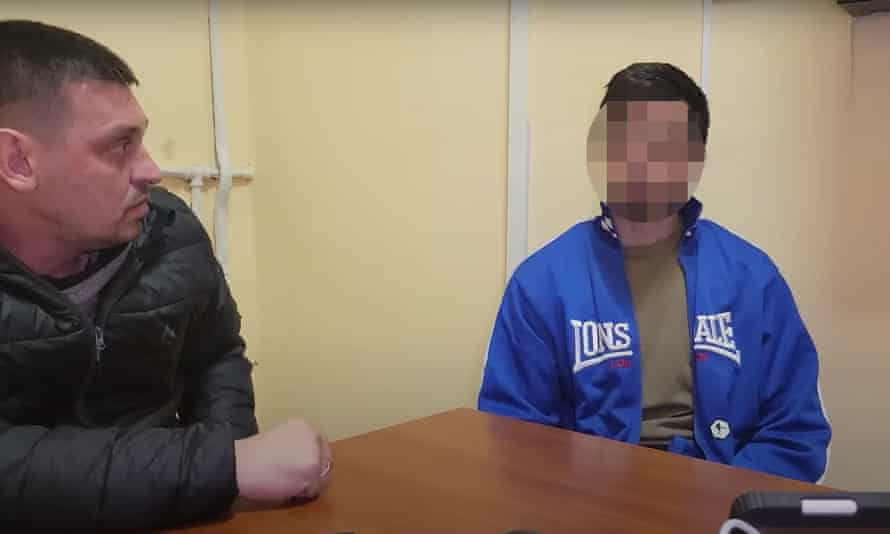 Zolkin called the relatives live on camera and questioned them about the behavior of the Russian government.
"But the Russian special services (FSB) have started sending fake phone numbers and fake military data and spam," Zolkin said. "I would call the mothers, but after three days I started to hear formal answers – we are not interested in politics, we know nothing and everything. "I realized that the mothers were being pressured by the Russian special services."
He added: "I said [to the government]give me the opportunity to contact the detainees and let them call their mothers. "
His first interview was on March 18 with a 20-year-old soldier, Pavel Kravchenko, who said he had gone to war without understanding Putin.
"We were in an escort," he told Zolkin. "When we crossed the border, we asked the commander, 'Where is he?' He said, "Do not ask unnecessary questions." We were surrounded, we did not even counterattack, we surrendered immediately. The escort was destroyed immediately. I did not want to die. I wanted to live. "
Zolkin is now interviewing about 10 Russian prisoners of war a day in locations across the country, only a few of which have been broadcast.
The pale, apparently nervous, detainees are asked to confirm that they have agreed to the interview and its broadcast, before being asked to report their military background and the events that led to their arrest, along with their thoughts on the war. YouTube has blocked interviews where there is a lack of evidence that the interviews are voluntary.
Detainees are then invited to invite family and friends home. The rationale is that the mothers of the captured soldiers would really hear what their sons were saying about the truth about the war, Zolkin said.
The majority, he says, are like the first interview he did with Kravchenko. "To be honest, I did not know how to prepare for these interviews," he said. "I came and saw a child in front of me. Of all the people I spoke to, 80% are actually children. Some of them left unarmed. Some of them have never been shot or shot in their lives. Without combat training. "
He added: "Often a Russian mother does not ask her son about his health, but immediately tells us the propaganda they told her on Russian television. "They have a TV instead of a brain."
Zolkin is not aggressive with the detainees, although he says he personally believes that Krasnoyarsk, who killed a farmer who tried to capture him after he was shot down over Chernihiv, is a "mass murderer".
But he added: "I have mixed feelings. On the one hand I saw that these Russians were in fact children. But on the other hand, I saw children of Ukrainian civilians who did not attack anyone. And they are killed. [The Russians] destroy entire houses. You must to understand."