'I really excited," said Kurt Vile, legs bouncing as he perched on the edge of the orange chair. "Just thank you for the show." The singer-songwriter speaks from the basement of his century-old Philadelphia home, lounging in the corner of the studio he's designed for himself as a hiding place when he's overwhelmed or nervous. "I haven't played in a long time," he explained.
Vile spoke of the time, in November 2020, when Seth Meyers asked him to feature John Prine's Speed ​​of the Sound of Loneliness on his talkshow. This will be the first time anyone has appeared live on the show in eight months, due to the pandemic, and Vile loves the challenge. Vile was a devotee of Prine, as was Meyers, and that would also serve as a tribute: Prine had died of Covid seven months earlier.
But the dream soon became a nightmare. As a car brought Vile to New York, his back began to throb. In the TV studio, the makeup artist stood on the other side of the dressing room door and told her how to apply blush. What's more, Vile has decided to change the tempo of the song from the usual trot to his own, speeding up some parts and slowing down others. However, while he was practicing alone backstage, he was worried that he might make a mistake. When the show aired the next day, on Thanksgiving, his fears were confirmed. "People say I just slaughtered that song, that John was rolling in his grave." Vile laughed weakly, leaning so far back in his chair that he almost disappeared. "I feel I have let John Prine down. I'm turning."
That night, Vile slips away from the family Thanksgiving celebration and falls into a spell of self-doubt, playing guitar and working his way through his despair alone. By the time he went to bed, he had written Like Exploding Stones, an honest account of his own failings. The synthesizer relaxes as he strums the strings, singing slowly about simpler times while contemplating the performance anxieties and stresses of life in the public eye. "That," he said, "is an exorcism."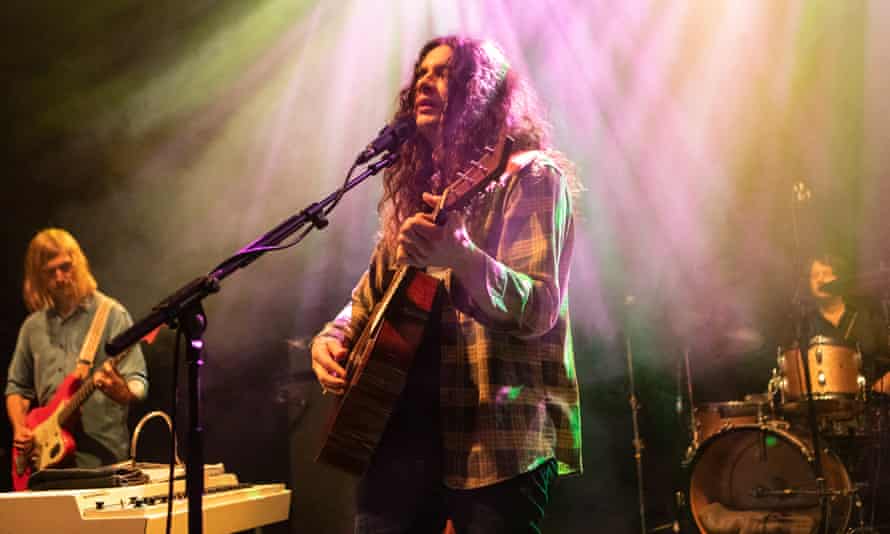 Vile – still thin and fresh-faced at 42, with a sense of childish elan – has been specializing in jovial stoner jam full of muttering satire for nearly two decades now. Although written in first-person, its elusive songs have long been difficult to interpret, so the openness of Like Exploding Stones is a fundamental change. The slow-burning seven-minute song, recorded when Vile's band jammed on a cassette he made that night, is the first single from (watch my move), his first album in four years and his most personal.
It was also his major-label debut, recorded in a home studio he built with cash from Verve Records. It's a bold departure from someone who comes across as a timeless teenage skateboarder, dressed in flannels and a Cate Le Bon T-shirt, with his basement bathroom stocked with skateboards and guitars. "I could be in the arena," he said, likening himself to Willie Nelson or Bob Dylan. "I know I have the ability, the punch, the song. And I love the idea of ​​having a song on the pop charts, connecting with people. I have that ability." But can he do all that and maintain his quirk, while dealing with the anxiety this opportunity can bring?
Vile talks about his music with intensity and gets frustrated when his breezy songs are deemed discarded: he believes his last record, Bottle It In 2018, was misunderstood, its complexity ignored. "It's a deep album. I was so deep and worked so hard. I want to blow my mind." He gave a high and mischievous laugh that was more like a howl. "I very rarely let music pass that might be embarrassing, which I'm not proud of."
Set a record being Vile's raison d'etre soon after his father, a bluegrass obsessive, gave him a banjo for his 14th birthday. He skipped college and moved from suburban Philadelphia to downtown, making a living from multiple jobs while compiling tapes and recording with his friends and roommates, The War on Drugs. Soon after their 2008 debut, Vile left the psychedelic heart rockers and signed to Matador, his career bubbling as indie music poured into the mainstream. When Matador asked him to be single after he had been there for over five years, Vile wrote Pretty Pimpin. "I tried to write a hit song," he says, "and I did." The song now has 92 million Spotify streams. "I've touched that area enough that I know I can go there again. I want to do it with every song now, in a different way."
Vile feels he has reached his peak in indie, where every new record plays like the last. "It's always one small step," said Vile, who avoided eye contact by staring at the floor until he landed on a spot he liked, as he was doing now. "I put everything I had into all my records and, in the end, I was exhausted. How many more times can I do it without trying something new?"
After Vile participated in a tribute to the Velvet Underground at the Universal Verve subsidiary, the executives there asked about his plans. Only 40 years old and at the end of his contract with the Matador, he thinks the time has come to jump in, not least because Verve's extended family includes the Velvet family, as well as Alice and John Coltrane. "I was always a con man, thinking about what would happen next," he said. "This is my chance to see what happens."
On March 11, 2020, Vile met with his old manager, Rennie Jaffe, in Philadelphia to sign his new contract and celebrate. Later that evening, Donald Trump announced a travel ban, in response to Covid. Despite Vile's ambitions, the sudden hiatus and cancellation of his upcoming tour brought some relief. The musician has struggled for years with what he calls the "ping-pong psyche", thinking more about what will happen next than what is happening now. A part of him longs for the kind of stability at home that the pandemic offers.
Stuck in Philly, Vile developed a routine, helped by the fact that he had given up drinking the year before (and smoking weed, more or less). He is in bed at 10pm and wakes up at 7am to drink coffee and read about music before recording into the night. His daughters – Delphine, nine, and Awilda, 11 – studied upstairs with their mother, Suzanne Lang, Vile's wife for nearly 20 years. The world is getting smaller. "We have beautiful trees here," he said. "I just started thinking about them."
Vile used Verve's funds to turn his basement into his dream studio, which he named OKV Central. The studio is an extension of the Vile music house: in the upper room, an organ and piano sits surrounded by books, notes, and sketches. Piles of albums and cassettes filled every corner of the basement, with walls serving as shrines to the bands Vile loved: Neil Young's box sets, Dinosaur Jr. playlists, ZZ Top tapes, Jewish Silver liner notes. Vile took a photo of rapper Schoolly D and said: "Philly pride!"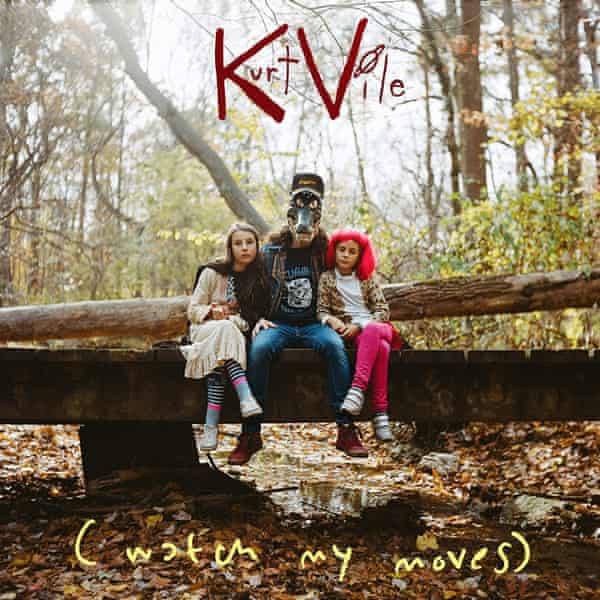 This continuity between work and home life is infused into the new songs, which are confessional in a way that Vile rarely does. Despite his scorn of success and fame, (watch my moves) intimate and unguarded, pandemic-era domestic record. "Write down about what you see around you," she hums to the stringy beauty Chazzy Don't Mind. "Children and flowers / And days for hours." The lyrics pick up children's toys on the windowsill, favorite recordings on the stereo, new growth in an old garden. His brother Sam and nephew Coda star in the video for Mount Airy Hill (Way Gone), while his daughter flank their father – hiding behind a crocodile mask, of course – on the album cover.
Vile bemoaned the world's crisis during Jesus on a Wire, the country's captivating number. Playing guitar at home, he concluded, was probably all he could do to help now. He agreed that this was his record "homecoming", admitting that his next step – embarking on a tour to promote it – might not be easy.
"I finally came here, in the woods making my own music," he later said over the phone, three days practicing the band. He slipped out for the first time since practice began and added: "But in reality, I would be thrown back into these crazy times, with all their anxieties." As his voice faded, he noted that the weather was nice, though he didn't know if it would stay that way for long.